Graduating in the face of adversity
First generation college graduate overcomes adversity and loss to graduate with Master's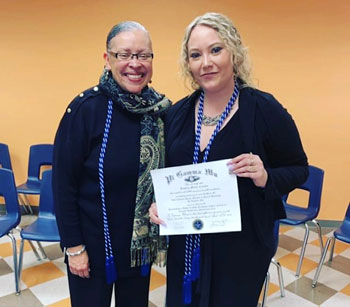 Jernice Lea, director of student services at University City, and Jessica Carvin, graduating master's student. Courtesy Photo
LINCOLN UNIVERSITY, Pa. –
To Jessica Carvin, a Lincoln University graduate student, walking across the stage during Lincoln's 160th commencement ceremony, is more than just an academic achievement.
"To me, graduation represents my triumph over the many adversities I endured throughout my life and during my time as a student," said Carvin.
A native of North Philadelphia, Carvin, who was raised in a single household, remembers the struggles of growing up in poverty.
"I never thought I would be where I am today," said Carvin.
Through sheer grit and determination, Carvin earned herself a spot at Temple University and graduated with a bachelor of arts in education. Carvin knew early on in her career about the importance of education and began working as a teacher at Garrett Academy.
Her passion for education and diligent work ethic quickly earned her leadership roles at Sunshine Day Care Academy where she served as the assistant director, and later Brightside Academy where she served as the education director.
After spending years in education through various roles, Carvin decided it was time to excel her career and chose Lincoln University as the place to earn her master's degree.
Weeks after Carvin began her journey as a Lincoln graduate student, she was robbed and sexually assaulted at her workplace.
"Enduring the pain of my unfortunate situation was a hard battle to fight. I felt defeated," said Carvin. "Lincoln University gave me a voice, and provided me a platform to help others in need."
After hearing the news, the faculty and staff at Lincoln's School of Adult Education rallied around Carvin and provided support.
"They couldn't have been more supportive," said Carvin."They worked with me and made sure I had everything I needed to stay on course."
A few months later, as Carvin was adjusting to life as a graduate student, her mother, Janice Carvin passed away from a sudden heart attack on Thanksgiving.
"I felt like my world was crumbling," said Carvin.
Upon receiving the news, faculty and staff rallied once again around Carvin to provide the much-needed support.
After receiving encouragement from loved ones, and the Lincoln community, Carvin decided to change her major from education to human services.
"I want to help others who experienced the same struggles I endured," said Carvin.
Carvin's perseverance sent a wave of inspiration throughout campus, affecting faculty and students alike.
"Jessica demonstrates the power of the human spirit," said Frank Worts, assistant professor at Lincoln's School of Adult and Continuing Education.

"Her fortitude and perseverance stand as a testament to her deep and abiding determination to rise above her adversities," said Broderick Haper, an adjunct professor at University City. "As a result, it was a pleasure to be a part of her Lincoln University journey."
Virginia J. Smith, a professor at Lincoln's School of Adult and Continuing Education, says that Carvin "never gave up and never made excuses. She is an inspiration to the faculty and staff."
After completing her master's degree, Carvin plans to earn a Ph.D. at St. Joseph's University.
Article by Devin Bonner, Office of Communications and Public Relations