Student Life and Development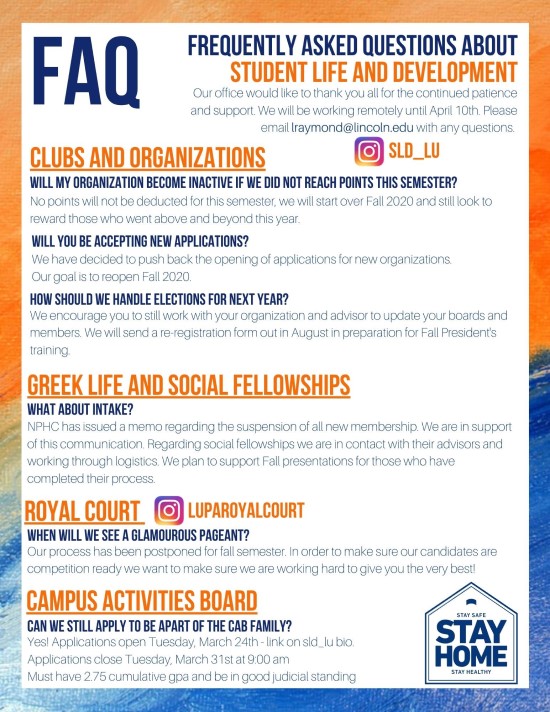 Mission
The Office of Student Life and Development advances Lincoln's Legacy by empowering students to learn, liberate, and lead through enriching co-curricular opportunities and learning experiences.
Vision
The Student Life and Development Office, which is in the Division of Student Success, works to fulfill Lincoln University's mission by its own mission of promoting leadership development and extracurricular involvement. We invite students to advance Lincoln University in many ways – from engaging in co-curricular opportunities, getting involved with clubs and organizations, or representing LU on the Royal Court. Essentially, the Office of Student Life and Development aims to create a seamless learning experience for our students between the classroom and student life, by advancing and enriching student involvement on the campus of Lincoln University one student at a time
Core Values

Effective Communication

​

Effectively and clearly communicate through oral, written, and visual means to increase knowledge and understanding or to promote change in a listener, reader or observer respectively
Outcome: Students will effectively communicate in oral, written, and visual forms.


Critical Thinking

Critical thinking is a comprehensive and systematic exploration of issues, ideas, artifacts, and events before accepting or formulating an opinion or conclusion and making inferences between concepts. Integrative learning is an understanding and a disposition that a student builds Revised 10/2016 across the curriculum and co-curriculum, from making simple connections among ideas and experiences to synthesizing and transferring learning to new, complex situations within and beyond the campus.

Outcome: Students will reason abstractly and think critically to make connections between ideas and experiences and to solve novel problems

Lincoln Legacy

Lincoln Legacy represents the intention of the University to highlight the institution's rich historical development, alumni achievement, and the role of people of African descent and their ongoing global impact

Outcomes
​Students will:

Demonstrate knowledge of Lincoln's heritage and legacy through assignments and related academic experiences.
Participate in activities and demonstrate behaviors that are indicative of forwarding Lincoln's legacy.
Examine and describe the role of people of African descent and their ongoing global impact as it pertains to Lincoln's history.
The Office of Student Life and Development is located on the lower level of the Student Union Building, Suite 130. The office is open Monday through Friday, 8 a.m. until 4:30 p.m.
---
Contact
Office Address:
Student Union Building (SUB)