History
Originally established as The Ashmun Institute, Lincoln University received its charter from the Commonwealth of Pennsylvania on April 29, 1854, making it the nation's first degree-granting Historically Black College and University (HBCU).
As Horace Mann Bond, '23, Lincoln's first African American and an eighth president, so eloquently cites in the opening chapter of his book, Education for Freedom, this was "the first institution found anywhere in the world to provide a higher education in the arts and sciences for male youth of African descent."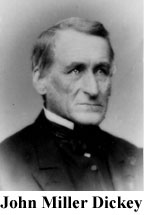 The story of Lincoln University dates back to the early years of the nineteenth century and to the ancestors of its founders, John Miller Dickey, and his wife, Sarah Emlen Cresson. The maternal grandfather of John Miller Dickey was a marble merchant in Philadelphia who made contributions to the education of African-Americans in that city as early as 1794. Dickey's father was a minister of the Oxford Presbyterian Church. After serving as a missionary and preaching to the slaves in Georgia, John Miller Dickey became pastor of that same church in Oxford, Pennsylvania, in 1832. Sarah Emlen Cresson inherited a long tradition of service and philanthropy through the Society of Friends in Philadelphia. John Miller Dickey was active in the American Colonization Society, and in 1851 took part in the court actions leading to the freeing of a young African-American girl who had been abducted from southern Chester County by slave raiders from Maryland. At the same time, having been unsuccessful in his efforts to gain college admission to even the most liberal of schools for a young freedman named James Amos, Dickey himself undertook to prepare the young man for the ministry.
In October 1853, the Presbytery of New Castle approved Dickey's plan for the establishment of "an institution to be called Ashmun Institute, for the scientific, classical and theological education of colored youth of the male sex."
On April 4, 1866, the institution was re-named Lincoln University in honor of President Abraham Lincoln. At that time, Dickey then proposed to expand the college into a full-fledged university and to enroll students of "every clime and complexion." Law, medical, pedagogical and theological schools were planned in addition to the College of Liberal Arts. White students were encouraged to enroll and two graduated in the first baccalaureate class of six men in 1868.
During its early years, Lincoln was known colloquially as 'the Black Princeton' due to its Princeton University-educated founder and early faculty, rigorous classical curriculum, ties to the Presbyterian Church and its similarities in colors and mascots. (Princeton's colors: orange & black; Lincoln's colors: orange & blue; Princeton's mascot: the tiger; Lincoln's mascot: the lion).
Since its inception, Lincoln University has attracted an interracial and international enrollment from the surrounding community, region and around the world. The university celebrated its 100th anniversary by amending its charter in 1953 to permit the granting of degrees to women. In 1972, it formally associated with the Commonwealth of Pennsylvania as a state-related, coeducational university. Lincoln is accredited by the Middle States Association of Colleges and Schools and offers academic programs in undergraduate study in the arts, sciences as well as graduate programs in human services, reading, education, mathematics and administration.
From among the first African American Congressional Medal of Honor recipients in 1865, U.S. Civil War veteran Christian Fleetwood, an 1860 graduate, to the first African American president and then Chairman of the Board of Directors of The United States Distance Learning Association in 2009 and 2010, Dr. E. Reggie Smith III '92, Lincoln University and our alumni have garnered more than 50 international and national "FIRSTS."
During our first 100 years, Lincoln graduated approximately 20 percent of the African American physicians and more than 10 percent of the African American attorneys in the nation. Our alumni have led more than 35 colleges and universities and scores of prominent churches. They also include U.S. ambassadors; mission chiefs; federal, state, and municipal judges; mayors; and city managers. Today, Lincoln graduates continue to make names for themselves in the sciences, business, religion, law enforcement, and even, creative and entertainment fields as writers, directors, comedians, and film executives.
Among our most notable alumni include: Melvin B. Tolson '24, an educator and one of the most significant African American modernist poets; Langston Hughes '29, world-acclaimed poet; Thurgood Marshall '30, the first African American U.S. Supreme Court Justice; Hildrus A. Poindexter '24, the first African American to earn both an M.D. (1929, Harvard University) and a Ph.D. (1932, Columbia University) as well as also the first African American internationally-recognized authority on tropical diseases; Rev. James Robinson '35, founder of Crossroads Africa, which served as the model for the Peace Corps; Roscoe Lee Browne '46, author and widely acclaimed actor of stage and screen; Lawrence (Larry) Neal '61, one of the most influential scholars, authors and philosophers of The Black Arts Movement; Gil-Scott-Heron, a legendary American soul and jazz poet, musician and author, attended Lincoln in the late 1960s; Lillian Fishburne, '71, the first African American female U.S. Navy Rear Admiral; Judge Jacqueline F. Allen '74, administrative judge of the trial division of the Common Pleas Court, Philadelphia; Sheila Oliver '74, the first African American woman elected Assembly Speaker in the New Jersey General Assembly and the first African American woman elected Lt. Governor of New Jersey; Philip Banks '84, former New York City Police Chief; Fred Thomas, Jr. '91, actor, director and three-time NAACP award-winning playwright; Comedian Will "Spank" Horton, who attended Lincoln in the late 90s; Jalaal Hayes '11 Delaware State University's youngest doctoral graduate and Brittney Waters '13, professional women's basketball player for the Ulster Rockets in Ireland.
Many of Lincoln's international graduates have become outstanding leaders in their countries, including Nnamdi Azikiwe '30, the first president of Nigeria; Kwame Nkrumah '39, the first president of Ghana; Sibusiso Vil-Nkomo, Ph.D., '81, the first Black dean of the University of Pretoria after the dismantling of Apartheid, and his wife, Renosi Mokate '81, former executive director of The World Bank Group as well as former CEO, South Africa Energy Fund, Tjama Tjivikua, Ph.D.,'83, the first rector of the Polytechnic of Namibia in Windhoek and Saara Kuugongelwa-Amadhila '94, the first female Prime Minister of Namibia.
---
University Motto

"If the son shall make you free, then ye shall be free indeed."