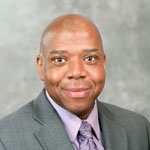 Assistant Provost and Dean of Student Success Services
Fred-Rick L. Roundtree is a native of Winston-Salem, North Carolina. Fred-Rick earned his Bachelor of Arts degree in English with a minor in speech communications from Winston-Salem State University (WSSU). He went on to earn his Master of Arts degree in English and African-American Literature from North Carolina Agricultural & Technical State University (N.C. A&T). He has completed all of the required coursework for the Ph.D. in educational studies with a concentration in cultural studies at The University of North Carolina at Greensboro.
Fred-Rick like many children of the late Civil Rights era, was privileged to have social justice, arts advocates, and educators in his family and community. They served as positive role models for him in community service initiatives and in the performing arts. Fred-Rick's love for education and the arts motivated him to choose a career in liberal arts education.
Fred-Rick comes to Lincoln University from WSSU where he served as special assistant to the provost and coordinator of the First-year Writing Experience. His former WSSU administrative and teaching roles include, dean of first-year students, assistant dean of literacy and curriculum services, and instructor of English, public speaking, African American studies, liberal studies, and the humanities.
Before teaching at WSSU, Fred-Rick's former teaching experiences included teaching English, public speaking, African American literature, and the humanities at Forsyth Technical Community College in Winston-Salem, North Carolina. He was honored by Forsyth Tech's Board of Trustees with the 2002-2003 C. David Kepple Excellence in Teaching Award. This was the highest teaching award at the college at that time. Fred-Rick was also invited to write and recite an inaugural poem, "The Realms of Possibilities", for the inauguration of Dr. Gary M. Green – Forsyth Tech's longest-serving president to date.
Other teaching experiences include, composition and literature instructor at N.C. A&T State University and special education teacher K through 5th grade in the Winston-Salem/Forsyth County Public Schools.
As an undergraduate student, Fred-Rick had was mentored by Dr. Maya Angelou. He was selected for an internship in the arts at Wake Forest University. Fred-Rick studied under the brilliant scholarship of Dr. Angelou in her course titled Charismatic Leadership and the Civil Rights Struggle. Dr. Angelou then offered Fred-Rick a major role as The Preacher and a supporting role as Peter in her touring musical, And Still I Rise. This musical toured the East Coast of the United States in the early 1990s.
Fred-Rick's other artistic experiences include, principle actor with The North Carolina Black Repertory Company in Douglas Turner Ward's classic comedy, Day of Absence. Fred-Rick also has experience as a professional storyteller with the Asheville, North Carolina-based edutainment company, Poetry Alive!©
Fred-Rick is a proud member of the Winston-Salem State University National Alumni Association, the WSSU Alumni Choir, and Phi Beta Sigma Fraternity, Inc. The fraternity honored Fred-Rick with the 2003 Educator of the Year Award.
Fred-Rick describes himself as an artist who loves higher education leadership, teaching, and learning. Moreover, Fred-Rick sees himself as an education practitioner who is fortunate to collaborate with faculty scholars daily.