LINCOLN UNIVERSITY, Pa. – Alumni are invited to celebrate family, friends, and good food at Lincoln's upcoming Alumni and Family BBQ from 1 p.m. to sunset Saturday, July 21 at the Robert N. Gardner Fitness Trail.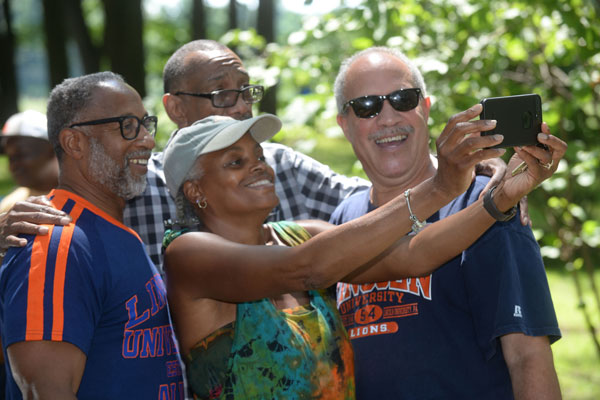 Guests at the 2017 BBQ pose for a photo. Staff photo/Bob Williams
Alumni, community members, and friends will be supplying your own food, beverages, ice, charcoal grills, and paper products including tablecloths, condiments, and utensils. Lincoln University will provide tables, chairs, face painting, swimming, basketball, and a DJ.
As in years past, alumni will also have the opportunity to participate in the Greek Fundraising Challenge.
There is something for everyone to enjoy and all alumni, faculty/staff, and friends are welcome to attend. Those interested in attending are highly encouraged to register. For more information contact the Office of Alumni Relations at 484-365-7433 or alumnirelations@lincoln.edu.