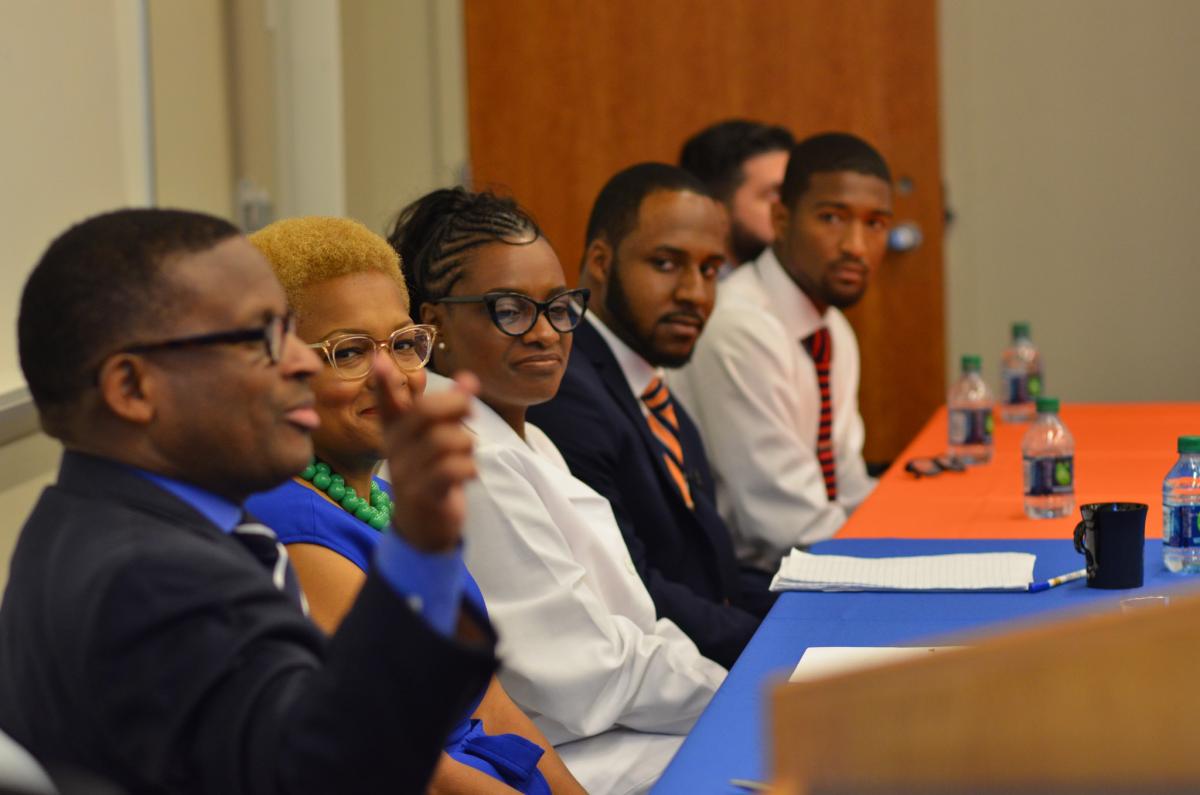 Panelists participate in the Student Government Association Symposium. Photo by Lincoln University Staff/Craig Watson
Lincoln University, Pa. – Lincoln University invited alumni and members of the community to celebrate alongside students at Lincoln's 2018 Homecoming held October 7-14.
Months of planning culminated in a series of weeklong events for students and alumni to enjoy alongside friends and family. Highlights during the week included the coronation of Mister & Miss Lincoln, the Career and Graduate School Fair, the Student STEM Workshop & Alumni Mixer, a fashion show, and a Homecoming Concert and After Party where some of hip-hop's most popular artists including Lil' Baby, Gunna, and Q Da Fool performed live.
Community members showcased unique goods while the smell of freshly prepared food wafted through campus during the Community Stage and Vendors' Fair held Thursday, October 11, and Friday, October 12 at the Living Learning Center Breezeway outside of Lincoln's football stadium.
On Saturday, not even a little rain could dampen the thrill of watching the Lions battle the Elizabeth City State University Vikings at the Homecoming football game. After celebrating the Lions hard-fought victory, alumni gathered to meet classmates during a series of events for the classes of 1979, 1988, 1993, 2008 and 2013.
Later in the day, students and alumni attended a ceremony and reception in honor of Dr. Goro Nagase, a beloved professor who retired after teaching mathematics and computer science for over 30 years at Lincoln. The ceremony began at 4:30 p.m., Saturday, October 13 at the Ivory V. Nelson Center for the Sciences. Alumni, faculty, and students expressed their appreciation for Goro's dedication to the sciences and his students.
In the evening, supporters of Lincoln met old friends and made new ones at the Lincoln Society Reception held at the president's residence where President Allen demonstrated her appreciation to some of the University's biggest financial supporters.

On Sunday, students and alumni wrapped up an exciting homecoming with service at the Mary Dod Memorial Chapel followed by the Homecoming Soccer Game at Lincoln's Soccer Field.