Residence Life
About the Office of Residence Life
Living on campus brings countless opportunities to your doorstep. With a new world of neighbors, you can form close, lasting friendships with fellow students who share your interests. Our on-campus residences are designed to make gathering, studying, and socializing convenient. Everything you need is nearby.
Residence Life assists students in all aspects of their on-campus living experience. This includes supervision of the residence hall staff, oversight of university policies and procedures related to campus housing. The Residence Life staff is committed to making your on-campus experience both an enjoyable experience and one of personal development. If you need assistance, please call 484-365-7226 or email residencelife@lincoln.edu.
---
Microfridge Rental
For more information regarding Microfridge Rental, click on the picture below, visit mymicrofridge.com, or call 800-525-7307.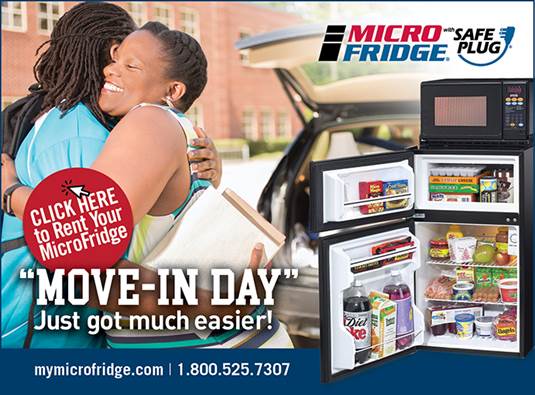 ---
Meet Our Staff
Departmental Definitions
Professional Position: Residential Academic Success Coach
Residential Academic Success Coaches are full-time professional staff members.
Professional Position: Area Coordinator (AC)
ACs are full-time live-in professional staff members. They supervise Community Advisors, advise Residence Hall Councils, participate in a duty rotation, and help students with a variety of issues.
Para-professional Position: Community Advisor (CA)
CAs are traditionally upperclassmen students who live on each floor and will provide residents with advice and support throughout the academic year. They help students struggling with challenges and connect them with the resources they need to be successful in their LU experience.
Apartment Style Living Staff
Area Coordinator- Gaelle Jean-Baptiste

preferred pronouns:

she, her, hers

Email: gjeanbaptiste@lincoln.edu

​Apartment Style Living CAs:

Keyana Brooks

Daniel Tackie

Zoe Cunningham

Obinna Ihijerika

Kaiya Lewis

Kyarah Eaddy

Trent Patrick

Omar Long

Ke'Vaughn James

London Davis
Frederick Douglass/ McRary Area Staff
Residential Academic Success Coach: Mr. Jonathan Harris, B.S.

preferred pronouns: he, him, his

Email: jharris@lincoln.edu

​Douglass CAs:

Winston Taylor

Andrew Moreland

Dashon Mockabee

Traquel Artis

McRary CAs:

Martins Ufio

Troy Wilson

Tunmise Okuneye

Anthony Dunn
LLC North, South & Guest Quarters Area Staff
Area Coordinator- Alishia Mosley

preferred pronouns: she, her, hers

Email: amosley@lincoln.edu

LLC North CAs:

Mitchell Igolimah

Saraya Baker

Solomon Murphy

Kayla Jackson

Keianndra Currie

LLC South CAs:

Kintesha Hopkins-Bailey

Jordyn Melvin

Aniya Benson

Vances Russell

Jorden Scruggs

LLC Quest Quartes CA:
Ashmun/ Lorraine Hansberry Hall Area Staff
Residential Academic Success Coach: TBA

preferred pronouns: she, her, hers

Email:

Ashmun CAs:

Vita Davis
Jessica Kaba
Lael Bernard

Hansberry CAs:

Atiya Hone

Chakiya Ricketts

Wynter Harris

Sania Edwards

Trinity Williams
Lucy Laney/ McCauley/ Rendall Hall Area Staff
Area Coordinator: Tara Brookins

preferred pronouns: she, her, hers

Email: tbrookins@lincoln.edu

Lucy Laney CAs:

​Jody-Ann Campbell

Jalecia Williams

Raven Johnson

McCauley CAs:

Rendall CAs:

​CarVonte Williams

Emonae Leggett
---
Mission and Vision
Mission:
The mission of Lincoln University's Office of Residence Life is to provide a diversified educationally stimulating living environment where students explore their own development and positively contribute to a global society. We strive to provide residents with valuable support and resources, as well as enriching activities and programs that serve to develop a sense of community, provide opportunities for learning in a clear, attractive, well-maintained, safe, and comfortable residence hall while promoting the University's missions. Lincoln University's Residence Life programs and services create a positive environment that actively engages students in the collegiate experience and help to build school spirit, character, and morale throughout the year while residing in the residence halls.
Vision:
The Office of Residence Life at Lincoln University seeks to create an intentional learning environment in the residence halls that create a bridge to complement classroom education and real-world experiences.
---
For More Information about employment:
For more information on federal work-study/ student employment please visit the Student Employment Website.
For general questions regarding Lincoln University's Human Resources department and open professional positions, visit Human Resources.
Contact
Office Address:
Student Union Building (SUB)