Academic Program Review
Academic Program Review
Academic Program Review is the systemic and cyclical assessment of academic programs. The process features these main steps including:
A departmental self-study
Review by an internal review committee
An external program review
An evaluation of the two studies and the creation of an action plan for improvement
The purpose of the Academic Program Review is for academic programs and departments to analyze and reflect on their teaching, learning, scholarly activities and create a plan for improvement. The Self-Study Report includes
Introduction and Overview
Faculty/Department Profile
Program Profile
Student Profile & Performance
Student Learning Assessment
Resources, Organization, & Management
Future Outlook
Conclusions and Recommendations
Academic Program Review Process
The diagram below illustrates the program review process. The entire process typically encompasses one academic year.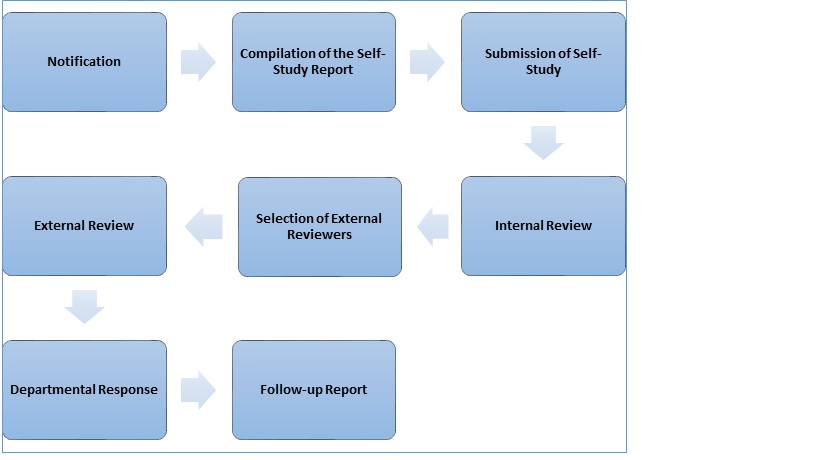 Program Review Schedule
| | |
| --- | --- |
| Review Year | Program(s) |
| 2021-2022 | Biology, Environmental Science, English Liberal Arts, French, Spanish |
| 2022-2023 | Accounting, Finance, Information Technology, Management, Music, Visual Arts, Library* |
| 2023-2024 | Chemistry, Biochemistry & Molecular Biology, Engineering Science, Physics, Nursing, Mass Communications |
| 2024-2025 | Sociology, Anthropology, Criminal Justice, Computer Science, Mathematics, Math General Education, Math Learning Center* |
| 2025-2026 | Writing Proficiency Program, Basic Writing Program, Composition Program, Writing and Reading Center*, Psychology, Human Services, BHS-Flex |
| 2026-2027 | History, Pan-Africana Studies, Philosophy, Political Science, Religion, Health Science |
| 2027-2028 | MED Early Childhood, MED Early Childhood/Special Education, MED Educational Leadership, MBA, MA Human Services |
* Due to these unit's responsibilities, the Review and Self-Study will be revised, as appropriate.
Program Review Resources