Langston Hughes Memorial Library
Overview
"I have discovered in life that there are ways of getting almost anywhere you want to go, if you really want to go."
– Langston Hughes, Class of 1929
Langston Hughes Memorial Library is named for one of Lincoln University's most famous graduates, the celebrated poet Langston Hughes, who also bequeathed his personal library here upon his death in 1967. The library itself is an integral part of the Lincoln experience. The 1972 facility contains areas for microforms, periodicals, computer labs, reading lounges, individual and group study rooms, special collections and the University archives. Students are able to access the library for after hour study through a separate designated entrance. Phase I of a total library renovation was completed in 2008. Phase II of the renovation was completed in 2012.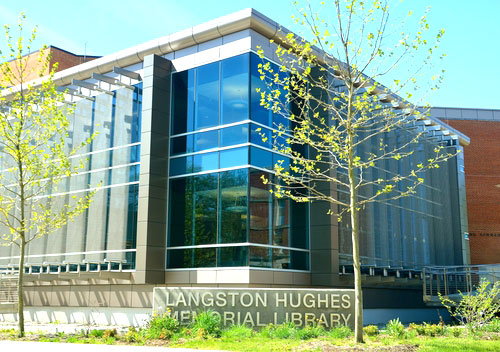 Here you will find…
A collection of more than 185,000 volumes
Databases containing in excess of 30,000 journal titles
Extensive materials representing all aspects of the black experience, including African-American and African materials
Special events
PILOT Resources (PILOT is the on-line catalog of the Langston Hughes Memorial Library holdings.)
Additional Library Resources
We look forward to assisting you with all of your research goals.
Circulation Desk: 484-365-7367
Administrative Office: 484-365-7366
Fax: 484-365-8106
Contact
Office Address:
Langston Hughes Memorial Library
Neal Carlson
Associate Professor, Interim Director and Serials Librarian, Langston Hughes Memorial Library
carlson@lincoln.edu
484-365-7262