Lincoln makes debut in marching band showcase at Honda Battle of the Bands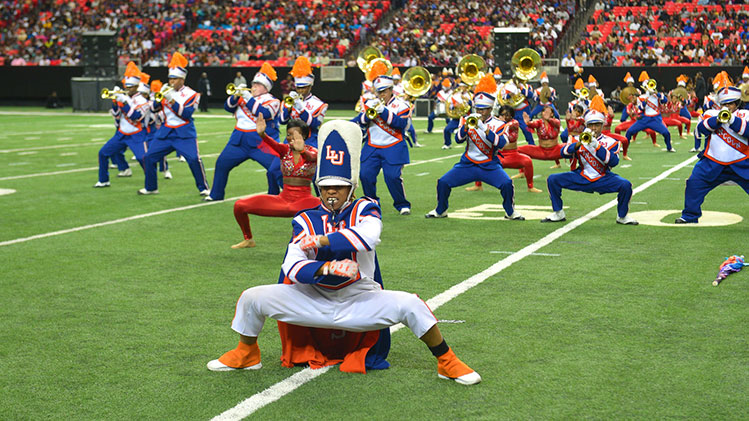 For the first time, Lincoln University's Orange Crush marching band participated in the Honda Battle of the Bands Invitational Showcase on January 30 at Atlanta's Georgia Dome.
Lincoln was chosen as one of only eight bands to perform in the 14th annual event, which celebrates, supports and recognizes the excellence of Black college marching bands and the unique academic experience offered by Historically Black Colleges and Universities (HBCUs).
More than 63,000 people attended the showcase. No overall winner is chosen from the eight bands, however each band receives a monetary award. A Honda representative presented a $20,000 check to interim band director Ronald Green and President Richard Green (no relation). The drum major is senior Teri McMillon.
Ronald Green called the HBOB the "Super Bowl" of band competitions.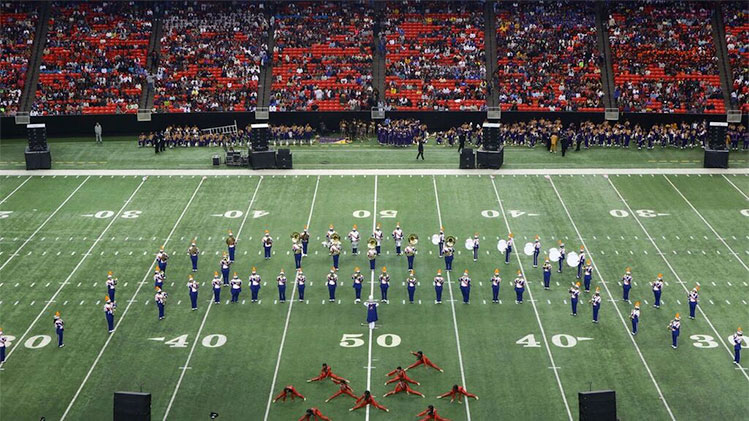 "The HBOB experience was so much more than I imagined it would be," Ronald Green said. "The LU band students took the opportunity to seize this great moment and put on an amazing performance in front of a record crowd."
Despite being one of the smallest bands and a first-time participant, the Orange Crush "dazzled the crowd with a bold performance and unique trumpet solo," according to the HBOB website. Watch the video.
The Orange Crush was the first band to perform. Their 13-minute performance covered songs such as "Smooth Criminal," "Back That Thang Up," and "Papa Was a Rolling Stone" which included a trumpet solo by H. Wade Johnson, former Lincoln band director. Special guest performance Musiq Soulchild, the American singer and songwriter, joined the band for three songs including "Half Crazy," "Just Friends," and "B.U.D.D.Y."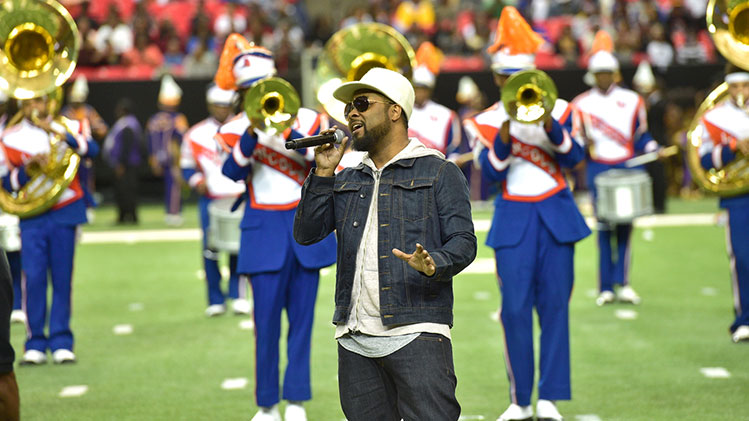 The event opened with a performance from the combined eight marching bands playing "Can You Feel a Brand New Day," song from The Wiz, the musical. For the first time in Invitational Showcase history, in addition to a mass band featuring nearly 2,100 student musicians, all eight drumlines performed to close the show.
"I believe this event allowed us to also claim our position among the top collegiate band programs in the country and bring national attention to some of the great things going on at Lincoln University," Ronald Green said.

The 75-member marching band and five staff left campus on January 27 via motor coach and returned to campus January 31.
Student Affairs Vice President Juliana Mosley, Ph.D. attended the HBOB events; university bands is part of the Division of Student Affairs.
"We might have been the smallest, youngest, and least known band, but LU Orange Crush set the stage, tone and expectation of the Showcase with its impeccable musicianship and artistry of dance," Mosley said. "I could not have been more proud of our students and interim band director Ronald Green. I look forward to our return in years to come."
In conjunction the main bands event, a recruitment fair was held where representatives from HBCUs were on hand to speak with thousands of prospective students. Attendees learned valuable information about HBCU admission requirements and about requirements for joining an HBCU marching band.
For the first time in its history, HBOB was live-streamed, reaching all 50 states and 40 countries. Hometown legend Ludacris returned to HBOB to perform for the second time.
Lincoln's Orange Crush marching band is open to all students, regardless of major.
Photos used with permission from the Honda Corporation.
By Shelley Mix, Office of Communications & Public Relations