Graduating senior shares his Lincoln journey and how the Lincoln community became family
LINCOLN UNIVERSITY, Pa. – Chances are if you've been to an event on campus in the past four years, you've seen mass communications student Anthony Parker Jr.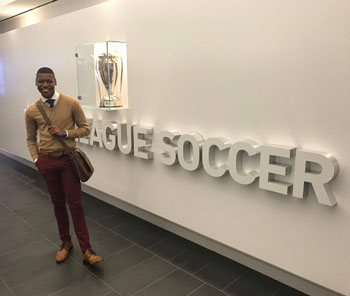 Anthony Parker Jr., Courtesy Photo
Whether it was behind a Nikon camera taking photos of students and faculty, mixing tracks behind a DJ table, or assisting with production, Parker–a Wilmington, Delaware, native–has made a tremendous impression on the Lincoln community.
"Parker is a jack of all trades," said Charles Ricketts, Lincoln's special events manager. "He's the go-to guy."
Upon his arrival to Lincoln, Parker quickly immersed himself into the array of extracurricular activities available to students on campus. As a freshman, Parker became a member of Lion Media– a campus organization that houses Lincoln's radio station WWLU 88.7 FM and LU-TV. He also joined the LU Gospel Praise Team, as well as a campus mentorship organization known as Promise 19.
Despite his busy schedule, Parker kept a close eye on his schoolwork after a meeting with his department chair.
"I was never an A+ student, but I have an A+ work ethic," said Parker. "I remember spending hours in Wright Hall reviewing my notes from class."
His work ethic and determination to succeed at Lincoln is what allowed Parker to overcome a personal tragedy that occurred during his sophomore year at Lincoln.
Parker, with an already brimming schedule, received devastating news from home.
"I woke up to multiple missed phone calls, 25 to be exact, from family and friends from back home," said Parker.
His family home had caught fire during the Thanksgiving break.
"Nothing was salvageable," said Parker. "I come from a large family and during the holidays we come together, fellowship, take pictures, and share family memorabilia."
After news of the fire reached campus, the Lincoln community rallied behind Parker and his family. He credits the support he received from the Lincoln administration with helping him remain focused on his goals.
To ensure Parker was back in action, the student body created a GoFundMe campaign to help Parker replace his photography equipment.
"Because of the love and support I received from everyone on campus, the Lincoln community will always be my family," said Parker.
Throughout his time at Lincoln, Parker continued to make his mark on campus eventually becoming the assistant program manager of Lincoln's radio station WWLU 88.7 FM. He also serves as president of Lion Media and a mentor to incoming mass communications students.
Parker's creative spark and technical capabilities honed through curricular and co-curricular activities at Lincoln have led to his success outside of campus. During the 2018 summer break, Parker worked as a digital studio production intern at Major League Soccer in New York City and later launched his own photography service.

Article by Devin Bonner, Office of Communications and Public Relations