Lincoln sophomore wins top research award at biomedical research conference
Lincoln University, Pa. — Students from the Department of Biology presented research, enhanced professional development skills, explored graduate schools, and networked at one of the world's largest undergraduate research conferences for minority students.
More than 3,000 students attended the Annual Biomedical Research Conference for Minority Students in Indianapolis, Indiana.
This year, six students participated in the conference alongside Dr. Anna Hull, associate professor and research mentor in the Department of Biology, and Vanessa McRae, director of undergraduate research.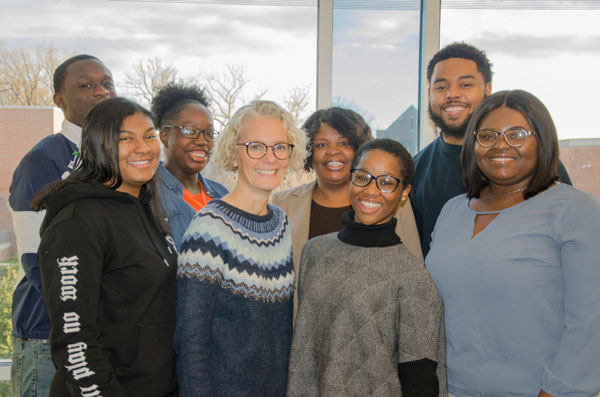 ABRCMS students pose for a group photo at Wright Hall. Photo Courtesy/Lincoln University Staff/Devin Bonner
In order to be selected as a presenter, students must submit an undergraduate research abstract that is then scored by abstract reviewers. If the abstracts are selected for presentation, the students also have an opportunity to apply for a travel grant which covers the cost of their lodging and travel cost for the conference.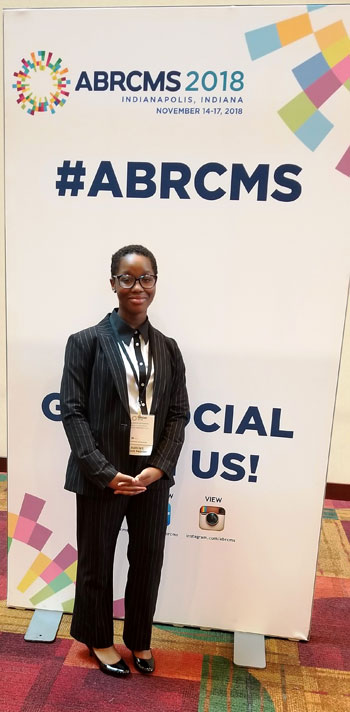 Lauren Holman at the 2018 ABRCMS conference in Indianapolis, Indiana. Photo Courtesy/Lincoln University Staff/Vanessa McRae.
Lauren Holman, a sophomore biology major, was one of the few students who had their research accepted for presentation and awarded a travel grant to attend the conference.
Her dedication and research skills gained at the Center for Undergraduate Research earned her a top spot in the social and behavioral sciences and public health category for her research titled "How Workplaces Impact the Experiences of Employees with High-Functioning Autism Spectrum Disorders."
"When I found out that, my abstract was accepted into ABRCMS I was extremely shocked and grateful," said Holman. "However, winning the conference was a totally different experience. Winning reinforced that my voice in research had value, and that feeling was priceless."
"I am so very proud of Ms. Holman, she is the epitome of a true scholar," said McRae. "Lauren has persevered through so much, and she continues to excel."
In addition to Holman, three biology seniors presented research studies: Mydirah Littlepage-Saunders, Sarai McCoy, and Ime Nkanta. Jamal Benoit, a mathematics senior and Solomon Bassett a biology senior attended the conference as non-presenters' courtesy of Dr. Hull's LEAPS grant.
Article by Devin Bonner, Office of Communications and Public Relations