Lincoln University Brings World Music to Local Music Festival
LINCOLN UNIVERSITY, Pa. -- For the second year in a row, Lincoln University has announced its sponsorship of the World Stage at the Connective Art & Music Festival in downtown Oxford.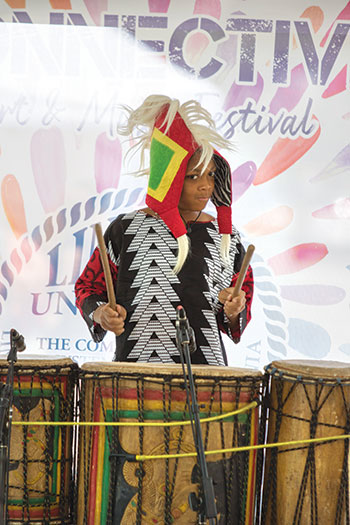 A performer on the Lincoln University-sponsored World Stage at the first Connective Festival in August 2018 (Lincoln University/Gerard Garlic)
"Lincoln University has a strong legacy of contributing to the cultural life of the community, and we are thrilled to once again help bring world music to the Connective Festival," said Brenda A. Allen, president of Lincoln University.
On August 3, festivalgoers will have an abundance of opportunities to engage with art and music. One of three stages featuring regional and national acts, the World Stage will house a lineup of five acts with sounds from Celtic to Caribbean.
Eva Salina and Peter Stan are a small and mighty duo of accordion and voice, traveling through the traditional songs of Balkan Roma communities.
Jah People moves crowds with their spirited sets that include improvisational interpretations of reggae classics as well as newly crafted original music.
Poor Man's Gambit is a Bethlehem-based trio that brings a fusion of traditional music of Ireland, France, and Scotland to listeners around the world.
PhillyBloco is modeled after the blocos of Brazil with their large percussion sections and harmonic/vocal accompaniment.
As a student at Harvard, David Wax began traveling south of the border to study and immerse himself in the country's traditional music and culture. Back in Boston, he met fiddler/singer Suz Slezak, whose love of traditional American and Irish folk music fused with Wax's Mexo-Americana into the singular, David Wax Museum (duo), an energetic blend that has captivated audiences and critics alike.
Mary Lou Baily, Main Street Manager for Oxford Mainstreet, Inc. said, "Now that we have revealed the lineups for all three festival stages, it is really rewarding to hear the positive feedback from the community. Our team is excited that this year's festival will truly offer something for everyone, with an all-access ticket price that can't be beat!"
The Connective Art & Music Festival will benefit two 501(c)(3) non-profits, Oxford Arts Alliance and Oxford Mainstreet Inc. It will feature three stages and a variety of street performers, 40 visual artists and artisans, themed tents with demonstrations and activities for kids and adults, and a variety of other interactive music and art opportunities.
Tickets are available through the festival website: www.connectivefestival.org.
Article contributed to by Shelley Mix, Communications & Public Relations